Basically my work is awesome! I get to learn all sorts of cool stuff dealing with make up, skin care, and hair care. I get lucky and get to try out a lotttt of different products. So with out even more blabbering.. read on about some of my favorite eye products!
Benefit Cosmetics.."They're Real Mascara" $22 at
ULTA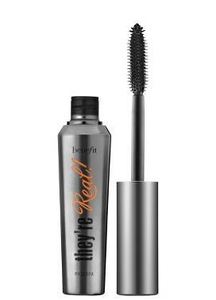 K no joke this stuff is awesome. During our grand opening we sold the crap out of this stuff. We seriously could not keep it on the shelfs. Sooo after about two months i finally gave in and bought it. Let me tell you... I LOVE IT! I was use to using the Covergirl Lash Blast that comes in the big orange tube. I like that stuff as well. But with this new mascara.. my lash routine is split in half, and my mascara doesnt flake. Because it is a gel based mascara, it doesn't run when it gets wet! BUT it's not completely waterproof so with a little soap and water you have yourself an easy removal! Plus it adds volume, and curls your lashes naturally. Say good bye to your eye lash curler ladies.. this stuff is BOMB. And no, the picture below is not me.... but legit that is how your lashes will look.
Tarte "EmphasEYES Waterproof Clay Eyeliner, and Brush" $22 at
ULTA
I thought for sure i would struggle using a brush to put my liner on.. OK i was totallyyyy wrong. This gel is super easy to work with and the brush is amazing. I just barely bought my second pot, after using my last one for almost 8 months. Have you ever had an eyeliner last you that long?...yeah I didn't think so. It comes in five colors.. Black, brown, bronze, green, and purple. The brown is pretty dark, and practicallylooks
black, the green and bronze have a shimmer, but not enough that one could tell a huge difference. Seriously this is probably the only liner i will everrrrrr use again. I have tried many.. from the cheapness of Revlon, to awesomeness of Bare Minerals (HATE HATE HATE their liners), averageness of Too Faced. None come even slightly close to this baby. Plus tarte is a completely natural brand with out any additives, or parabens.
Urban Decay "Original Eyeshadow Primer Potion" $20 at
ULTA
Alright.. some of you may be asking.. "why do I need a primer for my eyes? What even is a primer?" Well let m
e t
ell you.. it is the absolute one thing you
need
when wearing eye make up. A primer will hold your shadow in place with out letting it crease, smudge, smear, or run. It will force you to use
less
shadow because it helps pull the real color of your shadows out sooner...aka less building aka less product being used. Although there are a ton of different brands of eye shadow primer.. this one is probably one of my favorites. It comes in four colors..two of which have an absolutely gorgeous shimmer, the other two are flat, matte colors. If you are unsure of which to buy.. i suggest either 'Sin' or 'Eden'. Sin has a pinkish silver shimmer, while Eden is the original matte. The other two are more goldy tones, and are equally as pretty. Guys this stuff is awesome!
I am really sorry for the alignment and spacing issues. I am totally struggling with the new blogger interface for some reason. Anyway.. i am thinking that i am going to start posting my new favorite products every friday. What do you guys think?